A rather miscellaneous post today, so I thought I would link up with Miscellany Monday.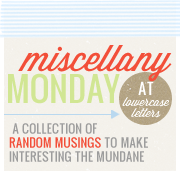 Matthew was here after school on Friday, and after a walk outside, he decided he needed a treat from the snack machine in the break room out in the seed plant. He made his selection, but...
it was stuck!
I hate when that happens.
He knew just what to do, though, as he made a couple passes at beating the snack machine. (Sorry for the blurry phone photo - he was a moving target!) When he was successful in dislodging the stubborn chips, he said, "Aunt Janet says to use your hip!" She must know what she's talking about. :)
After Matthew went home, Jim and I headed over to the lake listening to my new CD that came in the mail. In case you might not know,
Craig Terrill
is a former
Boilermaker football player
, born and raised in Lebanon, Indiana, who played for the Seattle Seahawks. I remember him best for the way he always hugged his mama when he ran onto the field in Ross-Ade Stadium, and for the blocked field goal in overtime that was returned for a game-winning touchdown against Wisconsin. Good stuff.
Later that season, we happened to run into his mama in the street at the
Rose Bowl Parade
in Pasadena. It was fun to visit with her in the excitement before the big game at the
Granddaddy of Them All
. :)
I guess he has always had a band, and since I follow him on Twitter, I learned of his new CD, "Genuine." We thought it was pretty good. And autographed. :) Check it out at
his website
.
Jennifer and Bryan joined us at the lake Friday evening, and they went biking in Brown County on Saturday morning. Jim and I did not go biking :) but met them in Nashville for lunch, at what is quickly becoming our new favorite place, the
Big Woods Brewing Company
. Again, I present for your viewing enjoyment, the Pulled Pork BBQ Nachos. And they taste even better than they look.
On Sunday, Jim was convinced to spray off the boat slip covers with the pressure sprayer. After
at least 30 minutes of work and frustration before
getting it started, and a short interruption by a lightning storm, he went to town spraying away.
And he was even still smiling. :)
He actually sprayed everything in sight, including his finger. Ouch!
It was fun (?) getting everything ready, and we're looking forward to a great time next weekend with everyone home.
This morning, I noticed that the peonies in our own yard were blooming. I love peonies. They seem like an "old fashioned" flower. Maybe that's because they are often long-lived, with some plants growing and flowering for more than 50 years. You can read this and other interesting facts about the state flower of Indiana
here
.
Happy Monday, everyone!